Thank you for visiting my website. I am currently a proud member of the Prince George, BC City Council.
As a city councillor I am also serving as a board member of the Omineca Beetle Action Coalition (OBAC) and have been elected to the executive OBAC. In addition I am serving on the following Council Committees: Core Review Committee, Downtown Development Committee, and Member of the Internal Governance Committee.
Please read the "news" section of this website to find more current stories. You can read below for more of my bio.
Who am I?
I was born in Bremen, Germany and grew up on a farm on the outskirts of the city.  After graduating from high school I learned the trade of "Mechanic for Agricultural and Forestry Equipment" and worked for a time as a licensed mechanic.  Later I studied Mechanical Engineering, first in Cologne and then at the Technical University of Aachen.  After graduation with a Masters Degree I accepted a 6-year employment contract as Assistant Professor with a Research Institute at the Technical University of Aachen and received my PhD in 1981.  Thereafter I was manager of "Reliability and Applications" with a large corpoartion in Duesseldorf.
In March 1985 I fulfilled my dream and immigrated with my wife and our two children to Canada.

During an earlier visit we had decided that Canada would offer us and especially our children the future we envisioned.  After a year of employment with a company in Vancouver I started my own Consulting Engineering Company, Tribotec International Ltd.  While this company grew rapidly I founded two other corporations, "A & A Tools Inc". and "The Maintenance Technology & Training Institute of Canada Inc".  We sold both companies after sufficient market penetration.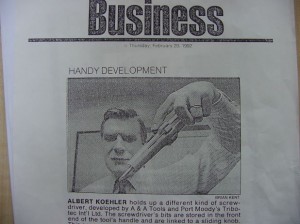 During our time in Vancouver I registered several patents, including a Multiple Bit Screw Driver and a Saw Guide patent for sawmills.  I volunteered as board member of large organizations and taught Reliability Engineering Management as Adjunct Professor at UBC.
The expansion of the Consulting Engineering Company required the establishment of a branch office in Prince George.  To start up this office I moved in 1997 with my family to Prince George, but travelled weekly to Vancouver to fulfill my teaching contract with UBC and to maintain contact with my head office and our customers.
Later I assisted with the establishment of the Environmental Engineering Program at UNBC, the university in Prince George, and also taught as Adjunct Professor when the program was in operation.
Beginning of 2004, I sold part of our Consulting Engineering business and invested in real estate in Prince George.  At that time I was elected as a board member to various organizations in the Prince George community, including the Chamber of Commerce and became the president of the Chamber in 2008.


In 2010, I founded the "Northern Technology & Engineering Society of BC" and subsequently became its President (www.ntes.ca).   Thanks to the society's lobbying activities the Prince George postsecondary institutions will soon be in the position to offer technology courses at the local college and a full blown engineering education at UNBC, right here in Prince George.
My journey from the small village in Northern Europe to Prince George in Central BC has been most interesting, challenging, enriching and also very rewarding.
Over the years I have served on the following boards since immigrating to Canada in 1985:
2011 to present




2014 to present




2012 to 2014




2011 to present

Councillor of the City of Prince George




Director, Regional District Fraser Fort George




Board Member of the "Spirit of the North Health Care Foundation"




Board Member of OBAC (Omineca Beetle Action Coalition)

2010 to present

Past President and founder of the Northern Technology & Engineering Society of BC

2010 to 2014

Board member of Community Futures, Fraser Fort George

2010 to 2012

Member of the Barkerville Heritage Trust Advisory Committee

2010 to 2011

President of the Yellowhead Rotary Club of Prince George

2009 to 2012

Board member of the Prince George Symphony

2009 to 2010

Member of the UNBC Engineering Advisory Council

2009 to 2010

Member of the CNC Engineering Steering Committee

2008 to 2010

Board Member and member of the Executive of Resources North Association

2008 to 2010

Chair of ATEEC (Applied Technical and Engineering Education Consortium)

2008 to 2009

President of the Prince George Chamber of Commerce

2007 to 2008

Vice President of the Prince George Chamber of Commerce

2006 to 2010

Director of the Yellowhead Rotary Club of Prince George

2005 to 2013

Honorary Consul of the Federal Republic of Germany

2002 to 2007

Member of the UBC and UNBC Board of Studies

2002 to 2003

Chair of the Prince George Chapter of Professional Engineers and Geoscientists of BC

1999, 2001 & 2003

Director of the Prince George Chapter of Professional Engineers and Geoscientists of BC

1991 to 1992

Chair of the Society of Tribologists, Vancouver Chapter

1991 to 1992

Vice President of the German Canadian Congress, Canada

1990 to 1991

President of the German Canadian Congress, British Columbia

1988 to 2003

Board member of the German Cultural Center Foundation, Vancouver, BC

1985 to 1990

Director of the German Canadian Congress, British Columbia
During this time and earlier I have received the following honors and awards:
| | |
| --- | --- |
| 2010 | Community Leader Award by Resources North Association: Award for dedication and excellent Service to the Association |
| 2009 | Immigrant Multicultural Services Society: Community Service Award for outstanding service to the community |
| 2008 | APEEG, Association of Professional Engineers and Geoscientists: Community Service Award, Recognizing outstanding service to the betterment of the Prince George Community |
| 2004 | Rotary Clubs of Canada: Service Award for Professional Excellence |
| 1995 | Federal Business Development Bank: Business Excellence Award |
| 1992 | Federal Business Development Bank: Business Excellence Award |
| 1991 | Federal Business Development Bank: Business Excellence Award |
| 1992 | Society of Tribologists, Vancouver Chapter: Outstanding Service Award for Service as Chapter Chair |
| 1991 | National Research Council of Canada: Award in Recognition and Appreciation of Distinguished Service |
| 1982 | Technical University of Aachen: Borcher's Plaque (highest recognition in its class) for "Outstanding Achievements in Research" |