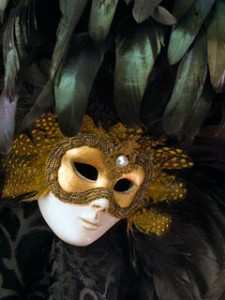 As some of you might be aware, this Friday is the
Il Carnevale Di Venezia
(aka The Masquerade Ball) for the PGSO.  I was asked just a few days ago, "I thought you stepped down from the board. Are you still going to the Masquerade?"
True, after being elected for City Council, I did step down after being on the board for three years. However, my wife and I are still big supporters of arts in the community… especially to do with music and the
Prince George Symphony Orchestra.
People see me as an academic.
With my work over the last decade trying to get an Engineering school at UNBC, I can see why. However, no matter how academic one can be, there are two sides of the brain. I believe it is just as important to train our brains at all different levels.
Learning different languages, being able to enjoy classical music and see beautiful works of art should be a part of every thriving community.
So my answer is "Yes, my wife and I will definitely be going to the Il Carnevale Di Venezia this Friday to support the
PSGO".
I hope you'll join us. It is not only going to a great cause in Prince George, but it will also be a lot of fun with great food, dancing and of course wonderful music too.